Everywhere. WinBid.
No More Special Characters in Passwords
Many of our apps use your AA password (although remember, we don't have your AA password, only you and AA have it). Although AA supports special characters in their password, they are not required and do not in themselves make passwords more secure. As of now, our apps will no longer support special characters in AA passwords, because of some specific internal logon protocols that AA recently implemented. If you have special characters, you must change your AA password to upper case, lower case, and number only if you plan on continuing to use our apps.
Your password should never included special characters such as "*", "!", "#", "?" "+", "/", "&", or "\" – if it does, you must change your AA password to something without special characters in order to use our apps. To comply with AA's composition rules your AA password needs: at least seven characters, at least one upper case, at least one lower case, and at least one numeric number. Nothing more.
If you use Halo/eHalo, and if you chose to change your password to something different, you must cancel all scheduled ACIs, change your password in e.Halo/e.Halo Gofers/Halo and then reschedule ACIs again
WinBid Pairings and e.Halo Gofers on the iPhone X
WinBid Pairings and eHalo Gofers for iPhone now fully supports the new edge-to-edge display on the AWESOME iPhone X.
Announcing winDECS for iPad (Now in Apple App Store)
Now in the Apple App Store: winDECS for iPad. winDECS for iPad brings DECS/FOS to your iPad. Your most-used DECS commands are organized in plain English, with all DECS responses recorded and saved for later review, printing, and archiving. CCI works pretty well, but it is disorganized and unfocused. winDECS for iPad is by nature organized and focused for pilots. It is especially focused for pilots who have no need or desire to learn the arcane workings of Sabre/DECS.

A true menu-driven DECS
Arranged by type, category, etc.
All DECS response screens are databased for review, emailing, archiving, printing
Quick access - don't worry about command syntax
"Sticky" values, enter almost any value only once. The app remembers your crew base, aircraft, division, position, etc.
"WinBid Reserve"-like reserve display/sorting.
Create/Send/Display HISEND messages.

Clear here to read more here in the online instructions for winDECS for iPad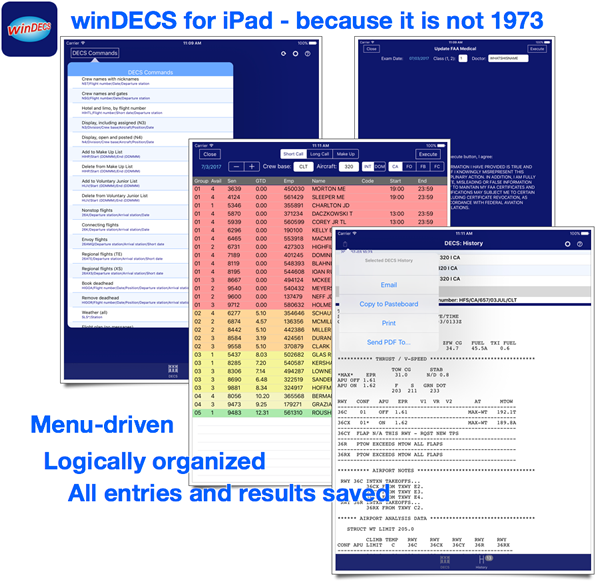 Instant DECS provides DECS Info in WinBid Pairings for iPhone
If you are a pilot, and have WinBid Pairings, you have quite a few DECS/FOS commands built into the app. From the My Pairings tab, you can select the DECS menu and add or update your DECS schedule information to the app. Additionally, the DECS menu includes a "More DECS Command" menu that brings up Instant DECS, with numerous additional DECS commands for simply viewing DECS information. The best part of DECS information in all our apps is there are no arcane codes and inconsistent formats to remember. All DECS features are in plain English, as they should be. After all, this isn't 1974. At least I think so.
One recent DECS command added to the Instant DECS menu in WinBid Pairings for iPhone is the "Flight Status" command. If you need your dispatcher's phone number, among other things, prior to a flight plan being generated, this is the way to get it.
All New Halo 4 for Windows
Because of the implementation of AA's new Travel Planner, Halo 3 for Windows has been discontinued, however, I am pleased to annouce an all-new Halo 4 for Windows. It was built from the ground up to access or to retrieve information from AA's new Travel Planner. Halo 4 for Windows closely mirrors the fuctionality of all of our other Halo/eHalo products, including Advance Check-In.
Order now: Halo for Windows
If you ordered the stand-alone version of Halo 3 for Windows in the past 16 months, the new version will be free for you. All users that ordered the stand-alone version of Halo 3 for Windows after January 1, 2016, should have received an email with a free download link. If you ordered the stand-alone version of Halo 3 after January 1, 2016 and did not receive an email with download instructions, please contact me.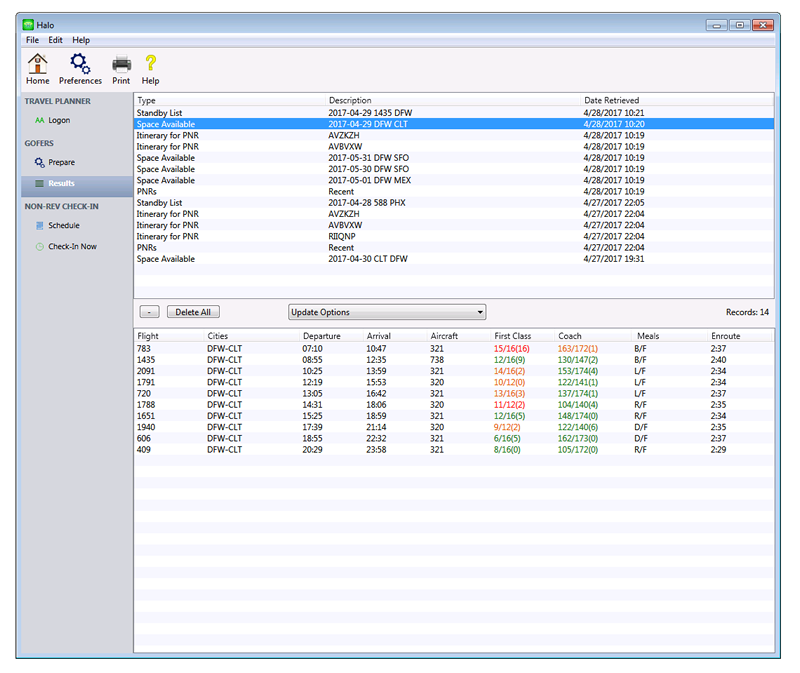 Annoucing winDECS for Mac and Windows (pilots only)
Annoucing winDECS, a new app to improve DECS usability and make it less arcane. Available for order now: winDECS for Mac and Windows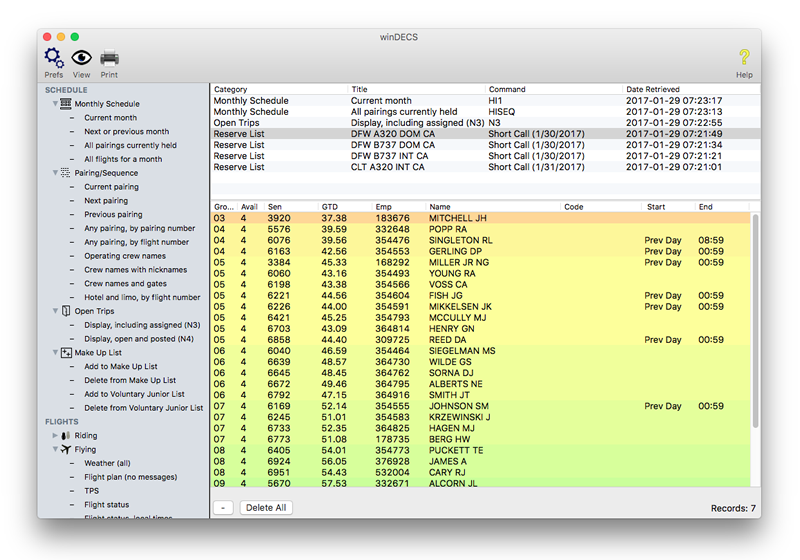 Copyright © 2018 SafiSoft All Rights Reserved
Apple, the Apple logo, and iTunes are trademarks of Apple Inc., registered in the U.S. and other countries.
Apple Watch, iPhone, iPad and iPod touch are trademarks of Apple Inc.